European Naive  Art , Copenhagen
6th October – 18th November 2012
Aimo Katajainen, Finland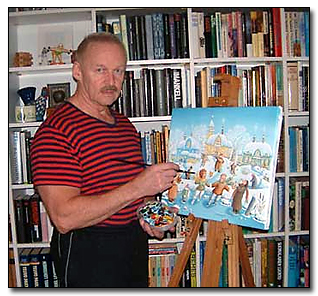 Born in 1948 in Valkeala, Finland. In my mid-fourties I became interested in naivism and started to paint with acrylics , so I  have slowly became a self dedicated naïve artist.
After the exhibitions in my own "Summer Gallery", "Upstairs" gallery in Kotka and some of Kouvola nearby held exhibitions I got invited to a naïve art exhibition in Miami, USA. This was followed by solo exhibitions in Landerneau and Brest in Brittany, France. Soon I became invited to the annual exhibitions in Galeria Eboli and finally to a number of naïve art exhibitions throughout Europe.
In these exhibitions I have got many friends and acquaintances of Europe´s best naïve artists.
PRIVATE EXHIBITIONS:
Kustaan Galleria, Valkeala, Finland                                               2006
Kouvolan kirjaston taidesali, Kouvola, Finland                         2004
Galerie d´Art Le Soleil, Brest, France                                            2003
Moision Kartano, Elimäki, Finland                                                 2003
Centre d´Affaires et de Congrés de Mescoat,
Landerneau, France                                                                            2003
Iitin kirkonkylän kesäkahvila, Iitti, Finland                                  2002
Piika ja Renki, Elimäki, Finland                                                        2000
COLLECTIVE EXHIBITIONS:
Colourful Europe
Kouvola Art Museum Poikilo,  Kouvola, Finland                      2012
Ruka-Art  Ruka, Finland                                                                     2012
IX Muestra de Pintura Naïf Europea
Galeria Eboli, Madrid, Spain                                                             2012
4 éme biennale d´Art Naïf le Centenaire
du douanier Rousseau á Montivilliers
Montivilliers, France                                                                           2012
Oda Art Gallery, Istanbul, Turkey                                                  2012
Ruka Art , Ruka, Kuusamo, Finland                                               2011 – 2012
2 ème Salon d´automne 2011 a Lourmarin
Galerie Jacqueline Bricard, Lourmarin, France                         2011
Kunstgalleriet Odense, Odense, Denmark                                2011
41. Edizione del Premio internazionale
Varenna di pittura naïf, Varenna, Italy                                        2011
European Naïf Masters Exhibition,
Bacrac Art Gallery, Istanbul, Turkey                                             2011
Paintres naïfs pour un art singulier,
Charenton le Pont, France                                                               2011
Taideseurojen näyttely, "voimalla seitsemän seuran"
Kuusankoskitalo, Kouvola, Finland                                               2011
"Charm of Winter", Online-Galleria Amalia                               2010 - 2011
"Hommage au Douanier Rousseau"
Groupe International des Primitifs Modernes dits Naïfs
Soisy sous Montmorency, France                                                 2010
Galerie Jacqueline Bricard, Lourmarin, France                         2010
Taideparatiisi Ilkka O. Lehtinen, Karilanmaa, Finland             2010
Minun Kouvolani-näyttely, Tha Art Museum of Kouvola,
Kouvola, Finland                                                                                   2010
 III - VIII Muestra de Arte Naïf Europeo,
Galeria Eboli, Madrid, Spain                                                             2006 - 2011
Salon International d´Art Naïf de Neuilly-Plaisance,
Neuilly-Plaisance, France                                                                  2009
"L´Europe et les Naïfs",Lourmarin, France                                 2009
Exposition du Groupe International des Primitifs
Modernes dits Naïfs, Le  5e Festival  d´Art Naif de Verneuil 2009
-St Loubes, France, -Verneuil sur Avre, France
-Katowice, Poland                                                                               2009
Exposition du Groupe International des Primitifs
Modernes dits Naïfs, St. Loubés, France                                    2009
"Celebrating the Human Narrative", Gina Gallery,
Tel Aviv, Israel                              2008 - 2011
Ruka-Art, Kuusamo, Finland                                                            2008 – 2012
Kouvolan taideseuran vuosinäyttely,
Kouvola, Finland                                                                                   2006 - 2011
Exposition du Groupe International des Primitifs
Modernes dits Naïfs  Versailles, France                                      2008
6e Biennale d´Art Naïf, Saint-Junien, France                            2008
Bilan du 4e Festival Verneuil,
Verneuil sur Avre, France                                                                 2008
5 ème Biennale d´Art Naïf d` Andresy,
Andresy dans les Yvelines, France                                                2008
1 er Salon International d´Art Naïf de
Neuilly-Plaisance,Neuilly-Plaisance, France                              2007
Taideseurojen näyttely, Kuusankoskitalo,
Kuusankoski, Finland                                                                          2007
Cromaticos Rassegna d´Arti Visive,
Castello Estense, Ferrara, Italy                                                       2007
"Naivistit kansainvälisesti Rukalla",Ruka, Kuusamo,              2007
Regards Naïfs Européens,
Chapelle Saint-Augustin, Flayosc, France                                   2006
Naïf International Exhibition,
Museum of the Americas, Miami, USA                                       2004
MUSEUMS:
M.A.C. Salvatore de Bahia
Bahia, Brazil
Kouvolan Kaupungin Taidemuseo Poikilo
Kouvola, Finland