European Naive

Art , Copenhagen
6th October – 18th November 2012

Amalia Fernandez de Córdoba, Spain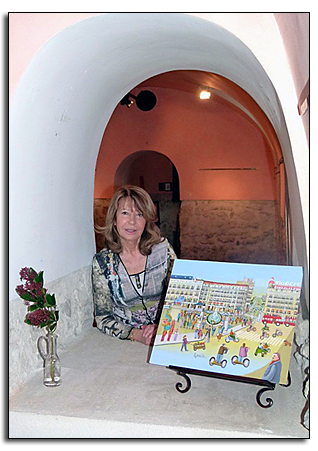 Amalia was born and lives in Madrid (SPAIN).
She studied Decoration and Architecture Design in Madrid, in the Design and Architectural Arts Academy.
During a travel through The Former Yugoslavia, Bulgaria and Romania in 1975, she discovered and fall in love with Naïf art. She soon start painting herself.
She takes part in many national and foreign exhibitions of Naif and Primitif Art.
Amalia is the owner of Eboli Art Gallery in Madrid (Spain), where she organizes since 2003 and each year the « Muestra de Arte Naïf Europeo »
SELECTED EXHIBITIONS
She participated in:
14 Personnel Exhibitions in Spain: Madrid(5), Barcelona(3), Vitoria(1), S. Sebastián (1), León (2), La Coruña (1), Orense (1).
EXHIBITIONS ABROAD
Solo exhibition in Morges (Suisse)
Concours International d'art Naif de Morges (Suisse) ou elle obtient mention special du Juré (2001) Plus de 100 expositions Collectives à : Madrid (, Paris(FR) , Morges (Suisse), Luzzara et Castelvetro (Italia), Finland, Polonia, Versalles(Francia), Andressy(FR) Povoa do Barzin(Portugal) Miami (USA) Modena (Italia) Toulouse (Fr) Saint Agustin de Sauveclare (FR), Flayosc (FR),Exposition Polar-Art (Laponia), Verneuil sur Avre (FR) Lourmarine (FR) ,Barcelona(ES) Sevilla(ES) ,Jaén(ES),Oviedo(ES), Burgos(ES),Zaragoza(ES),Mallorca(ES), Menorca(ES), Soria(ES), Palencia(ES), León(ES), Orense (ES), La Coruña (ES), Istambul (Turquiye), Kouvola (Finland)
AWARDS
3º Prix-Asociación Española de Pintores y Escultores (1992)
1º prix Junta de Turismo –Galerie D'Art à Casino de Estoril(Portugal) (1998)
Mention Special du Juri- Galerie pro-Arte Kasper ( 2001)
3ºAcecesit-Centre Culturel Galileo à Madrid. (2003)
MENTION D'HONNEUR. Galeria de Arte del Casino D'Estoril (1992-93-94-95-96.97 y 2003-2006 )
BACCO D'ARGENTO- Octroyèe pour le public, in Castelvetro (Modena-Italia) (2006).
1º Prix Camara Municipal de cascais –galerie D'Art Casino de Estoril (Portugal).(2008).
MUSEUMS
Musée de la Ville de Madrid.- Musée International Palacio Villardompardo (Jaén-España)-Musée D'art Contemporanée
In Huete (Cuenca-España)-Musée D'Art Naif in Luzzara (Italia)-Musée D'art Naif in Guimaraes (Portugal)
Fondation Camilo José Cela (La Coruña-España)- Fondation IBERCAJA –Fondation CEPSA.
PUBLICATIONS
"10 Primitivos Contemporáneos" – "El teatro en la Pintura naif" _ L'art Naif Espagnol "-Homenaje al Dr.Vallejo-Nágera" _ "La pintura naif en España"(IBERCAJA)- "Madrid con gafas naif"- "Catalogue Muestra de Arte naif Europeo"I au VIII - "Catalogue L'Europe et les Naïfs" Lourmarine 2009. – « Sobre el Arte Naïf » Antonio Granados Valdés 2010. " Vegetation, a Magical element in the European Naif Painting" Rafael Ceballos & Galeria Eboli 2012.
She is presented in the " DICCIONARIO DE PINTORES Y ESCULTORES ESPAÑOLES DEL SIGLO XX " .