European Naive Art , Copenhagen
6th October – 18th November 2012

Carole Perret, Switzerland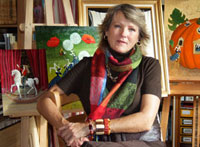 Carole Béatrice Perret was born in 1951 in Bern, Switzerland. She worked as an illustrator for advertisement firms in Paris, Lausanne and as a freelancer. She has three kids, all of whom are now adults. Besides her passion for equitation and her horses, she shares a strong fascination for visual art work, which has motivated her so strongly, she now devotes her life entirely to it
Instructed by an experienced painter, she started to learn how to work with the "Tempera" technique on wooden boards. This almost-forgotten technique was used in the era of Quattrocento, before oil painting had been invented. Today, Tempera is barely used anymore, because it requires a lot of specific knowledge and meticulous preparations.
Her paintings are being categorized within the family of naïve art, albeit the fact that certain surrealist features seem to pop up quite frequently. One does not become a painter of naïve art, one gets born naïve. It's a state of mind, and not a style.

She paints harlequins placed within scenes of a magical, child-like universe, where everything seems possible, the toys and all other objects mysteriously seem to come to life. However, she is most famous for her paintings that explore a world full of imagination and fantasy, where her nuns, strictly wearing a blue habit and a white coif, seem to have been put in place with a twinkle and childish impertinence. These nuns appear in many different settings, all very extravagant, but never cross the line: Never do they shock or leave the delicate humour, she intends to portray. Her nuns are angels and sorcerers teasing us gently. They seem to convey the message that we all wear a uniform in our life... and that a habit does not represent a nun!

Since many years, CB Perret has been able to show her paintings in galleries in Switzerland and elsewhere to the point that they are by now part of privately owned collections in Europe, the USA, Brasil, Japan, the Middle-East, etc...