European Naive Art , Copenhagen
6th October – 18th November 2012

Cristobal Martin , Spain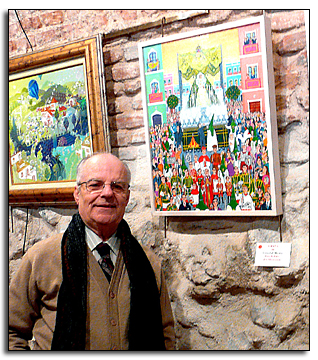 Born in 1931 in Osuna (Sevilla). He studied at the Arts Faculty of Sevilla and devoted himself to teaching drawing and painting in High Schools. He practices humoristic drawing and exhibits his work at the Casa de Colón in Las Palmas de Gran Canaria (Canary Islands), in 1973, and at the Exhibition Hall of Caja San Fernando, Seville, in 1980.
He published comic strips in the magazine "Don José", edited by A. Mingote, "Almanaque Agromán", "Correo de Andalucía", "El Paleto IIª época", etc.
He takes part in various issues of the "Humour Exhibition", which took place in the Cículo de Lectores, Madrid, curated by A. Mingote.
After his retirement in 1996, he started painting in the Naïf style and participates from 2006 on in the European Naïf Art Exhibition, organized in Madrid by the Eboli Gallery.
In 2011 participated in the "Istanbul European Master Naif Exhibition.