European Naive Art , Copenhagen
6th October – 18th November 2012

Fred Breebaart, The Nederland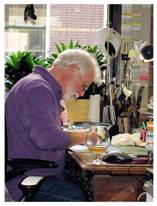 Born in Haarlem in the Netherlands in 1945.

An important part of his childhood he lived on Curaçao, Caribbean's.

After finishing high school and graduating from a private art school at Delft, he started of as an insurance broker. Ten years later, 1973, he decided to leave this cold business world and sell his business.

He moved to Mijas Spain to dedicate his life to the arts, his first love. After attempting several different stages of abstract and surrealism, Breebaart finally found the ideal style in consciously primitive painting.

His paintings noticeably capture a longing to return to the honest simplicity of childhood - streets, landscapes, festivities and especially people - colours of the four seasons in which he paints. Beauty, composition and architecture are always the basic background, emphasizing strongly the naivety of his people and giving the general illusion of innocence.

From 1973 to 1983 Fred Breebaart had his own gallery in Mijas, Spain. In '83 he came back to Delft in the Netherlands. It is then that the memories of his childhood in Curaçao came in his mind again and the growing need he felled resulted finally in 1990 to a exhibition on the isle.

Since then he's been more then ones on Curaçao, always returning home with piles of photo's and a head full with new ideas. Was it Henny Blok who gave Fred his first exhibition and represented him in the first years, now it is Popi Verboom with her gallery Alma Blou representing Fred Breebaart on the isle of Curaçao.

He says: "The reason for me to paint the way I do is that a painting should look joyful in its surrounding, whereby there are always more people present then could reasonably be expected in the situation inviting to a close look of the details and little jokes, so that a smile will show by the spectator.

This smile that keeps coming back with (re) discovering more details, is to me the most important incentive and reward I get."