European Naive Art , Copenhagen
6th October – 18th November 2012

Mariana Mihut, Romania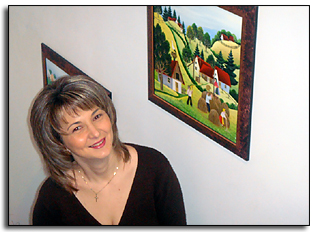 Born in 1975 into a family of farmers in Western Carpathians in Transylvania, Romania, Mariana Mihut represents the fourth generation of a family of naive painters. As a teenager she exhibited paintings that become like those of her ancestors, a touching and beautiful illustrated calendar life of the mountain, called Motzi. We discover the wonder and nostalgy of the daily peaceful life throughout the four seasons: children playing, livestock, collecting apples and hay, the great Christian feasts etc.
INTERNATIONAL GROUP EXHIBITIONS
Salon International d'Art Naif Hall Square to Flour Versailles 2011
6th Biennial of Naïve Art Andrésy 2010
Salon International d'Art Naif Soisy sous Montmorency Tribute to Rousseau 2010
Christmas in the Square Coignards in Nogent sur Marne 2010.
Muestra-Galeria de Arte Naif Eboli-Madrid from 2008 to 2012
Biennial of Naïve Art Evere Brussels 2011
International exhibition in Katowice Poland 2010-2011
SELECTED EXHIBITIONS
19th Exhibition of Painting and Sculpture 2012
The Sorinières Comparison Salon Art-Capital Paris GRAND PALAIS 2009 2011
International Festival First Prize Painting Bucharest-Romania
Figurative Exhibition naively Daubigny Museum Auvers sur Oise 2011
International meeting of Naïve Art Ottmarsheim 2011
European exhibition of Naïve Art-Gallery Jacqueline Bricard Lourmarin 2011
18th and 19th Art Fairs Saint Aignan Gd.Lieu 2010 2011
Art at the discretion of the Chapels "La Baule in 2008 Guérande A2011
23rd and 24th Exhibitions of Painting and Sculpture Sorinières 2011 2012
Biennial of Naïve Art in Haute Vienne Saint Junien, Rochechouart 2010
Paris Maison du Limousin 2010
Europe and Painters Gallery-naive Bricard Lourmarin 2009
Guest of honor at the Salon d'Automne in 2009 Rocheservière
Guest of honor at the Salon of Painting Meslay Maine 2009
Festival of Naive Art Verneuil / Avre 2008-2010
Salon des Petits Formats Mesquer 2008
Communication Center West (CCO) Nantes 2005
Cholet Town Hall 2012
Galerie des Arcades Bressuire 2012
Mining Clisson Gallery 2011
Anne of Brittany Hall "Rennes 2011
Castle Groulaie Blain 2009
Workshop at the Mill Gautreau Vertou 2009
Mariana Mihut and the School of the Museum of Old Brusturi Castle LAVAL 2006
Rex Gallery Pouliguen Pouliguen
Gallery Jacqueline Bricard Lourmarin (Provence)
Daubigny Museum Auvers sur Oise